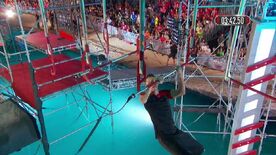 The Déjà Vu (officially stylized Deja Vu) is an obstacle, firstly introduced as the third obstacle in Stage Two on American Ninja Warrior 10, replacing the Wave Runner from the past two American Ninja Warrior seasons.
The obstacle consisted of 2 bars attached by wires on both ends. After completing the Criss Cross Salmon Ladder, competitors must grab the first bar and unhook it from the first set of cradles. Then they must swing the bar and hook the bar onto the third set of cradles. From there, they must grab the second bar (which was locked in hooks on the second set of cradles), unhook it, and finally swing it to the landing platform.
The obstacle turned out to be brutal, taking out 10 of the 24 competitors who attempted it, including top competitors like Daniel Gil, Dan Polizzi, Casey Suchocki, Eric Middleton, Thomas Stillings, Hunter Guerard, Tyler Gillett, Mike Meyers, Mike Murray, and Austin Gray. Most competitors failed either by the grip slipping or giving out, or only landing one side of the bar on the cradles, which would pull off all the bars and send them spinning into the water.
During USA vs. The World 5, a surprising disqualification occurred when Javier Cano from Team Europe swang to the landing platform from the first bar.
Despite its overall difficulty, this obstacle was replaced by the Snap Back on the next season.
Other Appearances
Australian Ninja Warrior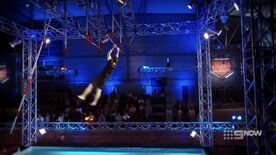 The Déjà Vu made its appearance as the third obstacle in Stage Three of Australian Ninja Warrior 5. Compared to its appearance on American Ninja Warrior, competitors must climb over an inclined pole before reaching the bar. Due to Zak Stolz failing on the previous obstacle, the Doorknob Drop, no one attempted the obstacle in this competition.
Competitors' Success Rate
All results based on the NBC broadcast and external information found
Trivia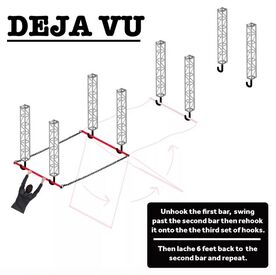 The Déjà Vu was one of the two obstacles that won the second edition of American Ninja Warrior: Obstacle Design Challenge, and designed by Kevin Carbone, who won the same contest on the previous season by designing the Wingnuts. Coincidentally, the Stage Two course on American Ninja Warrior 10 also featured the Wingnut Alley as the fifth obstacle, which was a variation of his obstacle.
Just like the Wingnuts, Carbone credited his father, Jerry, for coming up with the obstacle's name. Before officially submitting the obstacle, his creation remained unnamed until his father commented, "that looks like déjà vu".
Originally, the obstacle had the exact same design drawn by Kevin Carbone, which included the fourth cradle. However, possibly due to the dismount being hard on a still bar, the fourth cradle was removed to give competitors more forward momentum to dismount.
External Links