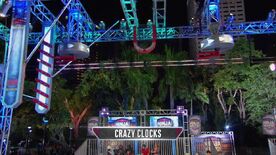 The Crazy Clocks is an obstacle, firstly introduced as the eighth obstacle during Miami finals on American Ninja Warrior 10.
Competitors must turn two handles on the first clock-shaped pivot, one handle would turn in a clockwise direction and the other handle would turn in a counterclockwise direction. After that, they must make the transition to a horseshoe-shaped ledge (in almost a similar shape to the ledges used on the Fly Wheels), then made the transition to the handles on the second clock-shaped pivot (which was placed on a 5-degree incline), then turned its handles (in the same process as the first pivot), and finally made the dismount to the landing platform.
During Miami finals, this obstacle proved to be a difficult challenge. Out of 14 attempts, only 5 competitors made it past the obstacle (Ryan Stratis, Brett Sims, Kenny Niemitalo, Drew Drechsel, and Jessie Graff). Meanwhile,Neil Craver, Nick Patel, Bootie Cothran, Todd Bourgeois, Casey Suchocki, Rachael Goldstein, Michael Johnson, Drew Hendry, and R.J. Roman failed on it. This is due to the fact that competitors had a hard time on the transition from the handles, as the handles would move back when they tried to make the transition to the horseshoe-shaped ledge.
Later on the same season, the Crazy Clocks reappeared as the third obstacle in Stage Three, replacing the Nail Clipper from the previous season. This time, there was no horseshoe between the handles. As the result, no competitor fell on the obstacle; both Sean Bryan and Drew Drechsel could complete it. However, due to the fact that those two competitors were the only competitors to advance to Stage Three and both of them later failed on the next obstacle (the Ultimate Cliffhanger), the Crazy Clocks became the cut-off to determine which competitor became the Last Man Standing of the season. Since Drew Drechsel was able to complete the obstacle faster than Sean Bryan, he was then declared as the Last Man Standing of the season and won the $100,000 cash prize.
Other Season Appearances
American Ninja Warrior 11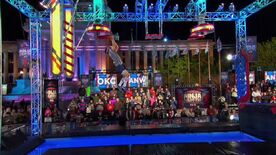 On American Ninja Warrior 11, the Crazy Clocks appeared as the eight obstacle during Oklahoma City finals, with the horseshoe being replaced with a small wavy-shaped board that shared similarities with the Unstable Bridge.
This time, there were more attempts on the obstacle, as 23 competitors attempted the obstacle. A total of 12 competitors fell on the obstacle, including Maggi Thorne, Barclay Stockett, Taylor Amann, Kendall Ortez, Damir Okanovic, Brent Steffensen, Abel Gonzalez, Josh Norton, Tremayne Dortch, Elliott Jolivette, Tyler Humphrey, and Jonathan Bange.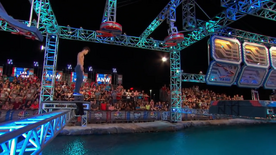 Later on the same season, the Crazy Clocks returned once again as the third obstacle in Stage Three. Once again, the obstacle didn't eliminate any competitor who attempted it.
Competitors' Success Rate
All results based on the NBC broadcast and external information found
Trivia
External Links
Community content is available under
CC-BY-SA
unless otherwise noted.