The Corkscrew is an obstacle, firstly introduced as the eighth obstacle during the first episode of the semifinals on American Ninja Warrior 12.
After competing the Salmon Ladder, competitors must hold on to a bar and would make a swing onto a wheel that would spin downwards in a clockwise direction. After that, they must swing upwards to the second wheel that would spin in a clockwise direction. They must do the process again on the third wheel and leap to the landing platform. To add the difficulty, the wheels would spin back up when competitors move on to the next wheels.
This obstacle became brutal as multiple notable competitors failed there, such as Kevin Bull, Thomas Stillings, Grant McCartney, Mike Wright, Devin Harrelson, Sandy Zimmerman, Jessie Graff, Abel Gonzalez, David Campbell, Brian Kretsch and Mathis Owhadi.
Other Appearances
American Ninja Warrior: Women's Championship
The Corkscrew appeared as the eighth obstacle in the Women's Championship, which was filmed during American Ninja Warrior 12. Significant modifications were made to make the obstacle easier:
A resting bar was added between the Salmon Ladder and the initial transition bar.
There were only two wheels instead of three, with an extra transition bar between the wheels.
As a result of these modifications, all five female competitors who attempted the obstacle completed it.
Competitors' Success Rate
All results based on the NBC broadcast and external information found
Trivia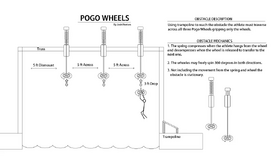 The Corkscrew was one of the obstacles that won the American Ninja Warrior: Obstacle Design Challenge, designed by Josh Norton, who competed on American Ninja Warrior 12 but was eliminated in the qualifiers.
The obstacle was originally named the Pogo Wheels when Norton submitted the obstacle in the said contest.
According to Norton, the obstacle was inspired by wheels on submarine hatches that would be needed to spin to open. The concept of the wheels spinning back up upon release would become similar to how pogo sticks bounce back up upon touching the ground.
External Links
Community content is available under
CC-BY-SA
unless otherwise noted.