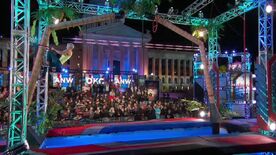 The Coconut Climb is an obstacle, firstly introduced as the fifth obstacle on American Ninja Warrior 11 in Oklahoma City.
It consisted of 2 poles, designed to resemble a palm tree. Each has a ring attached to it and is divided into 2 angles. Competitors must grab the ring from the first pole and climb it up to reach the top. Then, they must generate enough swing and momentum to grab the second ring and slide it down the pole. Finally, they must grab the rope at the end to reach the landing platform.
During Oklahoma City qualifiers, the obstacle was proven to be very difficult, as it took out 18 competitors. The obstacle was known for being a major upper-body test, as competitors either struggled on the ascent, the transition, or the descent. Several notable competitors who went out on this obstacle were Maggi Thorne, Barclay Stockett, Madelynn McNeal, Karen Wiltin, Taylor Amann, Josh Norton, Tremayne Dortch, Chris Cambre, Damir Okanovic, Jacob Bowling, Elliott Jolivette, and Jonathan Horton, .
During Oklahoma City finals, to make the obstacle slightly easier, there were cleats placed at the the ascend part of the first pole. As a result, the obstacle only took out 4 competitors: Madelynn McNeal, Rick Hinnant, Josh Harris, and Matthew Day (who was disqualified at the end for grazing the water, rather than tumbling off). With the exception of Day, every competitor had failed on the obstacle before during Oklahoma City qualifiers.
Competitors' Success Rates
All results based on the NBC broadcast and external information found
| ANW | Clears | Attempts | Percentage |
| --- | --- | --- | --- |
| ANW11 (qualifiers) | 17 | 35 | 48.57% |
| ANW11 (finals) | 26 | 30 | 86.67% |
| Total | 43 | 65 | 66.15% |
Trivia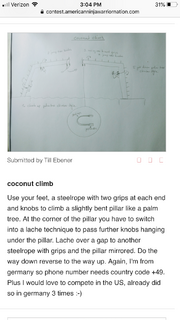 External Links