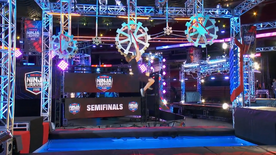 The Clockwork is an obstacle, firstly introduced as the third obstacle during the first episode of the semifinals on American Ninja Warrior 12.
Competitors must swing on three bars, each was attached to a sprocket placed around 6-7 feet apart. However, the bars were connected together, meaning swinging one sprocket moved them all simultaneously, making each transition difficult and requiring the competitors to time their release from the previous bar to the next bar.
The obstacle took out only two competitors in the first semifinal episode, both were notable competitors: Allyssa Beird and Jonathan Horton. In the second semifinal episode, the obstacle took out four competitors: Tiana Webberley, Ben Melick, Taylor Johnson, and Jessica Helmer.
Other Appearances
Australian Ninja Warrior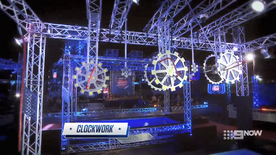 On Australian Ninja Warrior 5, the Clockwork appeared as the fifth obstacle in Heat 1 and Heat 3. The obstacle was paired with the Ring Chaser as part of the Crossroads' Path B.
Ninja Warrior France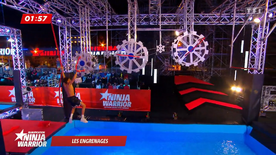 Les Engrenages, Ninja Warrior France's official name for the Clockwork would appear as the fourth obstacle of Qualification 1 of Ninja Warrior France 6. It is paired with the Curved Body Prop as part of Route A of the Crossroads. The obstacle would feature a resting bar right at the end of the obstacle that competitors can hold onto when they dismount to the platform.
Competitors' Success Rate
All results based on the NBC broadcast and external information found
| ANW | Clears | Attempts | Percentage |
| --- | --- | --- | --- |
| ANW12 (SF EP 1) | 26 | 28 | 92.86% |
| ANW12 (SF EP 2) | 26 | 30 | 86.67% |
| Total | 52 | 58 | 89.66% |
External Links