The Cat Grab is an obstacle first introduced as the second obstacle on American Ninja Warrior 6 in Denver.
Competitors must jump to the first wall, then jump to the next wall, and finally jump to the landing platform.
During the broadcast of American Ninja Warrior 7's Kansas City qualifiers, one competitor (Dennis Lappin) suffered a severe injury from this obstacle. While jumping to the first wall, his right leg hit the wall very hard, resulting in a ruptured Achilles tendon needing six months to recover.
Other Appearances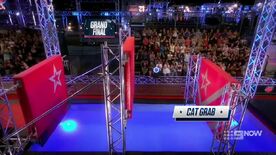 On Australian Ninja Warrior 3, the Cat Grab appeared as the fifth obstacle in Stage Two. This time, the obstacle featured three walls, with the second wall being placed higher than the first and third walls. The distance between each wall was 2.5 meters.
The obstacle defeated two competitors: Alex Matthew (who timed out at the top of the first wall) and Zak Stolz (who slipped after landing at the top of the third wall).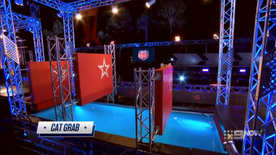 The Cat Grab returned as the fifth obstacle in Stage Two on Australian Ninja Warrior 4. This time, the distance between each walls was increased to 2.6 meters. However, no one failed on the obstacle this time.