Casey Rothschild is a college student at the University of Connecticut, she is from Holliston MA.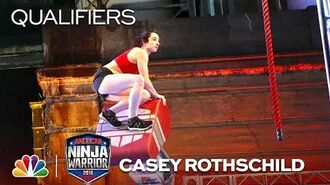 She first competed in American Ninja Warrior 10 in Philadelphia. In qualifying, she pulled off an amazing run, including a one-hand save on the Wingnuts. At the Warped Wall, she missed on her first two attempts, but scaled it on her third try and became the ninth woman ever to do so, as well as the youngest woman ever to hit a buzzer (at 20 years old) and the seventh woman in American Ninja Warrior history to complete the city qualifying course. She placed 12th overall.
After making it to the buzzer in the city qualifiers, she was expected to do well in the city finals. However, she shockingly failed the landing on the first obstacle, the Archer Steps, ending her rookie season.
She returned to compete in American Ninja Warrior 11 in Baltimore. Her qualifying run was digested, but it was shown that she shockingly failed the Dangerous Curves. Her time to the obstacle wasn't enough to make the women's top 5. It was revealed on her instagram that she expected to go farther, which is why she went at a relatively slow pace.
Community content is available under
CC-BY-SA
unless otherwise noted.