Casey Rothschild is a graduate of Wesleyan University.
She is the founder of "Queer Ninjas Unite", a group dedicated to supporting LGTBQ members of the Ninja community.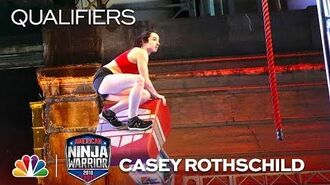 She first competed in American Ninja Warrior 10 in Philadelphia. In qualifying, she pulled off an amazing run, including a one-hand save on the Wingnuts. At the Warped Wall, she missed on her first two attempts, but scaled it on her third try and became the ninth woman ever to do so, as well as the youngest woman ever to hit a buzzer (at 20 years old) and the seventh woman in American Ninja Warrior history to complete the city qualifying course. She placed 12th overall.
After making it to the buzzer in the city qualifiers, she was expected to do well in the city finals. However, she shockingly failed the landing on the first obstacle, the Archer Steps, ending her rookie season.
She returned to compete in American Ninja Warrior 11 in Baltimore. Her qualifying run was digested, but it was shown that she shockingly failed the Dangerous Curves. Her time to the obstacle wasn't enough to make the women's top 5. It was revealed on her Instagram that she expected to go farther, which is why she went at a relatively slow pace.
Casey was originally selected to compete on American Ninja Warrior 12, having been slated to participate in Washington D.C. However, due to COVID-19 delays, she was one of the many others who were not invited to compete on the modified season. Likely to make up for unprecedented circumstances, she did receive a call to compete on the next season.
On ANW 13, she competed in the fourth episode of qualifying. Her run was digested, but she made it to the fifth obstacle Pretzel Twist, before failing. She made it far enough to place not only 4th in the womens' top 5, but 27th overall. She was one of five women that round to make the top 30.
She later competed in the second episode of semifinals. There she put up a good run as she made it up the Warped Wall for the first time since her debut. She later failed on Padlock, but it was good enough for her to place 2nd among the women and move on to Vegas.
Her run in Vegas was also digested, but she failed on the Swinging Blades after getting a bad jump on the trampoline.
Trivia
She is currently the youngest female competitor to hit a buzzer in American Ninja Warrior, having done so at 20 years of age in American Ninja Warrior 10.