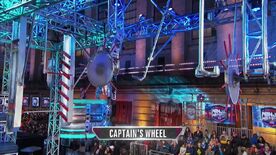 The Captain's Wheel is an obstacle, firstly introduced as the eighth obstacle during Philadelphia finals on American Ninja Warrior 10.
It consisted of 2 steering wheels, each with 12 spikes surrounding it and one of the spike was much longer than the other 11 spikes. The second wheel was placed perpendicular to the first wheel.
After completing the Salmon Ladder, competitors must grab a waiting bar in front of them. Then, they must reach the first wheel and rotate it (in a similar fashion to the Roulette Cylinder) until its longest spike could be locked onto the post. From there, they must traverse the longest spike (with a set of handles at the end of it), and then made the transition to the second wheel. On the second wheel, they must do the same process as the first wheel, and after its longest spike could be locked onto the post, they must traverse the longest spike to make the dismount to the landing platform.
Overall, 12 competitors reached the obstacle and 6 competitors get past it, giving the obstacle a 50% completion rate. Interestingly, among the 6 competitors who failed on this obstacle, 4 of them were rookies who failed on the Lightning Bolts during Philadelphia qualifiers, while the other 2 competitors were veterans and also female competitors who attempted the obstacle: Michelle Warnky and Allyssa Beird. However, due to the fifth obstacle during Philadelphia finals (the Lightning Bolts) became the cut off for the top 15 competitors to advance to Las Vegas national finals, those 6 competitors still advance to Las Vegas national finals, including Beird and Warnky, who finished in 11th and 12th places respectively.
Other Apperances
Ninja Warrior Germany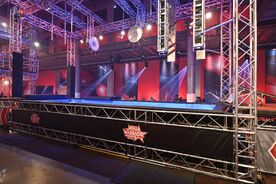 Captain's Wheel (called as Steuerräder) appeared as the fourth obstacle of Stage Two in Ninja Warrior Germany 5, with the similar configuration with the one in American Ninja Warrior 10's Philadelphia finals, except another waiting bar was added at the end. Only 2 out of 15 competitors failed this obstacle.
Competitors' Success Rate
All results based on the NBC broadcast and external information found
| ANW | Clears | Attempts | Percentage |
| --- | --- | --- | --- |
| ANW10 | 6 | 12 | 50% |
| Total | 6 | 12 | 50% |
External Links