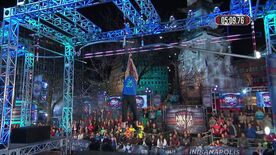 The Cane Lane in an obstacle, firstly introduced as the ninth obstacle on American Ninja Warrior 10 during Indianapolis finals.
Competitors must move a cane across 2 tracks, with a gap between the tracks:
The first track was S-shaped (similar to the one used on the Swinging Spikes) and had a stopper to overcome.
The second track was placed slightly to the left and had its first part straight, while its second part was angled downward with 2 pegs to overcome (similar to the one used on the Ring Jump).
This obstacle proved to be very difficult, as 9 out of 13 competitors fell here, including Brian Arnold, Jesse Labreck, Travis Rosen, Tyler Yamauchi, and many other veterans. Rigel Henry, Trevor West, Ethan Swanson, and Dan Polizzi were the only ones able to complete it.
Later on the same season, the Cane Lane reappeared as the seventh and penultimate obstacle in Stage Three, replacing the Time Bomb from the previous season. This time, the tracks' shape was changed to zig-zag, along with the change in design, resembling a beam. However, due to Sean Bryan and Drew Drechsel being the only two competitors to attempt Stage Three, with both of them failing on the Ultimate Cliffhanger, no one had attempted the obstacle.
During USA vs. The World 5, the obstacle was attempted by Drew Drechsel from Team USA, but he failed to complete it.
Other Season Appearances
American Ninja Warrior 11
On American Ninja Warrior 11, the Cane Lane appeared as the ninth obstacle during Baltimore finals, with a similar design to the obstacle that appeared in Stage Three on the previous season, but retaining the track's layout as it appeared during Indianapolis finals on the previous season.
However, due to the casualties caused by the previous obstacle (the Angry Birds), since the obstacle eliminated all of the competitors who attempted it, the Cane Lane, along with the next obstacle after it (the Spider Trap), were left unattempted.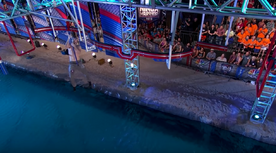 Later on the same season, the Cane Lane returned on the same position (as the penultimate obstacle) in Stage Three. Compare to the previous season, the track was modified, adding a small track where competitors had to transit to, albeit the design of the first track is similar to the one used in Baltimore. This time, the obstacle was attempted by eight competitors and eliminated five of them: Tyler Gillett, Seth Rogers, Joe Moravsky, Karson Voiles, and Kevin Carbone. Only Adam Rayl, Drew Drechsel, and Daniel Gil could complete it (for Adam's case, his completion was considered a clear as he barely grabbed on the resting bar to the Flying Bar before falling).
Competitors' Success Rate
All results based on the NBC broadcast and external information found
Trivia
The Cane Lane seemed to be based on the Arm Rings, as both obstacles involved the competitors to slide a curved object down a meandering track.
Community content is available under
CC-BY-SA
unless otherwise noted.