The Bungee Rope Climb (バンジーロープクライム), called as the Rope Climb (ロープクライム) in SASUKE 27 (not to be confused with the Rope Climb, a First Stage obstacle which shared the same name), is the sixth obstacle in Third Stage from SASUKE 25 (the first tournament after Urushihara Yuuji's kanzenseiha in SASUKE 24) to SASUKE 27.  
It was a variant of the Rope Junction and Tarzan Rope, with elasticized ropes where the competitors must use their momentum to transfer from one rope to the other, as the ropes decreased in length. In the new Muscle Park building located in Chitose, this obstacle was the second-to-last obstacle in their "SASUKE Park" attraction.[1]Its alternative name used was "アンビリカルコード" which translated to Umbilical Cords. However, this name was not used.
Due to the difficulty of the Ultimate Cliffhanger, nobody attempted this obstacle in SASUKE 25 and SASUKE 26. When the obstacle was attempted in SASUKE 27, the two competitors who made it to that point, Urushihara Yuuji and Matachi Ryo, did not even struggle on it. The Bungee Rope Climb was removed in SASUKE 28.  
American Ninja Warrior Appearances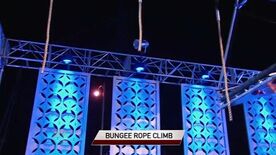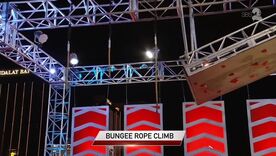 The Bungee Rope Climb appeared as the fifth obstacle in Stage Three on American Ninja Warrior 4 and American Ninja Warrior 5, and was completed by Brent Steffensen on American Ninja Warrior 4 and Brian Arnold on American Ninja Warrior 5.
During USA vs. Japan, 4 competitors (Matachi Ryo, Brian Arnold, Brent Steffensen, and Paul Kasemir) could reach and complete this obstacle.
On American Ninja Warrior 6, the obstacle was replaced by the Propeller Bar.
Competitors' Success Rate
All results based on the TBS/NBC broadcast and external information found
| SASUKE | Clears | Attempts | Percentage |
| --- | --- | --- | --- |
| 25 | 0 | 0 | N/A |
| 26 | 0 | 0 | N/A |
| 27 | 2 | 2 | 100% |
| Total | 2 | 2 | 100% |
American Ninja Warrior
Community content is available under
CC-BY-SA
unless otherwise noted.