Brian Kretsch is an American Ninja Warrior contestant who has competed on all eleven seasons of the show. As of 2019, he, David Campbell, Ryan Stratis, and Lorin Ball are the only four competitors to have competed on every ANW season to date.
On Season 1, Brian had a phenomenal preformance in qualifying, as he flew through all six obstacles to hit the buzzer in one minute, despite hesitation on the Rope Swing and Pipe Slider. He became the first person to ever run the Semi-Finals course, but shockingly failed an obstacle he cleared in the previous round, the Pipe Slider, as he moved too cautiously down the second drop and pulled the bar off the tracks, sending him into the water. He placed 30th overall, and did not move on. This was the end to his rookie season, but the experience fostered many ninja friendships. Most notably, that of David Campbell. Amazingly, he placed 30th on both the qualifying course and semi finals course.
In between Season 1 and Season 2, Brian Kretsch and David Campbell built the first full Ninja Warrior training course in the USA. The course drew competitors from across the country to Santa Cruz, CA, where they perfected their skills and grew their friendships. Their efforts also inspired most other "backyard courses" and training facilities. Brian and David continued to expand the course and training techniques, which they've passed on to others, until June 2012, when the course had to be dismantled. Many of the obstacles ended up being relocated to Brian's backyard in the East Bay, CA.
On Season 2, Brian was overconfident due to all of his training on the Santa Cruz course. He tried to speed through the preliminary course, but ended up failing the third obstacle, the Bridge of Blades.
Season 3 proved to be Brian's worst showing to date. He failed the very first obstacle, the Quad Steps, on the preliminary course. There was some controversy that year, as the weather had played an unfortunate roll in many competitors fails due to rain. After failing, Brian went on to be a tester for the Boot Camp portion of the season along with Evan Dollard, Ryan Cousins, and Sean Morris.
He competed again in American Ninja Warrior 4, and completed the Northwest Qualifying and Northwest Finals courses, earning a spot at the first ever Las Vegas Finals course. Unfortunately he couldn't repeat that performance at Mt. Midoriyama, where he failed the Jumping Spider.
On American Ninja Warrior 5, he cleared the Venice City Qualifiers, but failed the Cliffhanger in the City Finals. This was enough to get him to the Las Vegas Finals again, however he repeated his previous performance and failed the Jumping Spider for the second year in a row.
Then in American Ninja Warrior 6, he competed in the Venice Qualifiers again, this time as a walk-on. His qualifying run was cut, but it was known that he went out on the Monkey Peg. However, this was enough for him to get into the top 30, as he had placed 22nd overall.
In the Venice Finals, he made it past the first 6 obstacles and the Salmon Ladder, but went out on Cannonball Alley. Kretsch placed 12th overall, and advanced to the national finals. In Vegas, his run was digested, but he had been able to make it past the Jumping Spider. He almost cleared Stage 1, but went out on the Spin Bridge. Since no Venice Beach finalist cleared stage 1, he, along with Vadym Kuvakin, Alex Kane, and Robert Ing, went the farthest out of any Venice Beach participant in Vegas this season. This is best performance to date.
In American Ninja Warrior 7, he competed in the Venice Qualifiers yet again. But this time, he competed along with his sister Shannon. He was strong through the first 2 obstacles, however at the end of the Tilting Table/Balance Bridge, he injured his knee and was in critical condition. But, he didn't give up and managed to clear the 4th obstacle, Spin Cycle. The Hourglass Drop proved to be too much for his knee as he immediately grabbed it in pain when he hit the trampoline. He then refused to go to the hospital so that he could watch Shannon compete, who later failed the Spin Cycle. Kretsch didn't make it into the city finals as he had placed 34th overall, likely due to his injury.
He was later seen in San Pedro supporting Dustin McKinney and Ryan Stratis, and was shown to be in crutches as his knee hadn't recovered yet. According to his social media, he ended up fracturing his leg in three places right below the knee.
Kretsch returned in American Ninja Warrior 8 after his leg recovered from last season. It was revealed that he was also running for his mother, who had breast cancer last year as well. Kretsch was able to finish the Los Angeles qualifying course with a time of 4:45.30, but had a heartbreaking fall on the Escalator in the finals when he jumped too early and bounced into the water. Kretsch placed 27th overall.
It is also worth noting that because of his mother's diagnosis, Kretsch has started wearing pink arm sleeves every time he is on the course to raise awareness for breast cancer. This had become a tradition that he had started fostering since this season.
In American Ninja Warrior 9, he yet again competed in the Los Angeles region. Unfortunately he had once again failed on a balance obstacle, this time being the Block Run. It was the third year in a row that he had failed to make it to Las Vegas.
Additionally, SASUKE star Nagano Makoto made a cameo before his run, visiting Los Angeles. In fact, before Kretsch's run, Nagano Makoto did a ceremonial backslap on him, a tradition typically done with Takeda Toshihiro.
Kretsch appeared for his tenth season in American Ninja Warrior 10, competing alongside another 10-time veteran, David Campbell, in the Los Angeles course. He got his revenge on the Spinning Bridge, and ultimately was one of 10 competitors who got past the Doorknob Drop. He had trouble on the standard Warped Wall, taking three attempts to clear, but was ultimately able to finish the qualifying course, in which he placed 10th overall. He had the slowest time out of the ten finishers in LA qualifying.
In the LA finals, he fell on the Baton Pass. However, he ended up placing 15th overall, which earned him his first trip to the Las Vegas finals since season 6.
On Stage 1 he made it past Archer Alley, but fell on the second obstacle, the Propeller Bar, after missing the rope.
Brian Kretsch was known to run from his Instagram. His run was digested in LA qualifying, but despite having a small struggle on the Diamond Dash, he cleared the course placing 10th overall again, going straight to the standard Warped Wall to clear the course.
In the City Finals, Brian surprised many and also himself by being the first to clear the ruthless ninth obstacle, Leaps of Faith and becoming one of only two competitors to clear the Los Angeles finals course. Overall Kretsch placed 2nd, thus qualifying for the Power Tower and advancing to Vegas for the fifth time in his career.
In the Power Tower, Brian came up short, with Flip Rodriguez being the fastest to win.
In Vegas, he stage 1 run was digested, but it was shown that he unfortunately once again failed the 2nd obstacle, this time being Spin Your Wheels.
Kretsch has announced that he received the call to compete in American Ninja Warrior 12. He, along with David Campbell and Lorin Ball (three of the "four OG's") were confirmed to all compete in Los Angeles.
SASUKE Vietnam
Along with his American fellows, Brian Kretsch had a trip to Vietnam with SASUKE Vietnam 2. He failed the Stage 3's Cliffhanger Kai, when he lost his grip at the first ledge. This was his best performance to date, and so far this was the first time he advanced to both Stage 2 and Stage 3, while in American Ninja Warrior he even still didn't advance to Stage 2.
Trivia
Out of the four people who have competed in every season of American Ninja Warrior, he was the only one to compete in the California region every time it took place.
Results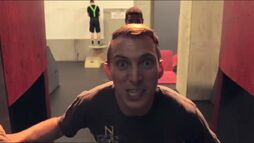 Community content is available under
CC-BY-SA
unless otherwise noted.