Brent Steffensen (ブレント・ステッフェンセン) is a stuntman and veteran competitor in SASUKE and American Ninja Warrior.
SASUKE
Steffensen qualified for SASUKE 26 by making it through American Ninja Warrior 2. There, he surprised many when he managed to become one of five Americans to clear the First Stage, clearing with 8.21 seconds left despite getting tangled in the netting of the Giant Swing. He was also one of four Americans to clear Stage Two, impressing many when he cleared the Second Stage with 21.5 seconds left on the clock, despite coming inches away from slipping off the Metal Spin. However, his impressive run came to an end in the Third Stage. He struggled for over thirty seconds on the Roulette Cylinder, and struggled to lock on his grip on the Doorknob Grasper, briefly hanging on by just one hand at one point. He managed to battle his way to the Ultimate Cliffhanger, but ultimately lost his grip at the end of the third ledge. His onscreen graphic lists his start position as #62, but in actuality his start position was in the mid-70s.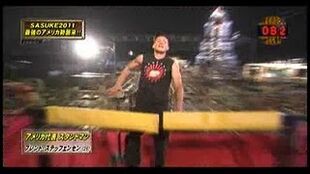 Steffensen then competed in American Ninja Warrior 3 and successfully qualified for SASUKE 27. There, despite slipping on the Spin Bridge, he once again cleared the First Stage, this time with over 32 seconds left on the clock. In the Second Stage, he nearly lost his balance and fell on the Balance Tank but managed to clear it successfully. However, he again struggled on the Metal Spin, but unlike the previous competition, where he was able to regrip the chain, he lost his grip and slipped into the water.
Steffensen competed in SASUKE 32 alongside Kacy Catanzaro and Drew Drechsel, wearing 62, where once again he cleared the First Stage, being the first competitor to do so, with 11.25 seconds remaining after several timeouts from previous competitors. He was thus the first to attempt the upgraded Second Stage. He cleared every obstacle efficiently, including the re-introduced Gyakusō Conveyor that failed to slow him, then managing to quickly lift and squeeze through all three walls of the Wall Lifting, and cleared with 25.66 seconds remaining, 6 more seconds left than the fastest stage time in the previous tournament set by Morimoto Yūsuke. On the Third Stage, Steffensen managed to clear the first two obstacles with ease, however, on the modified Sidewinder R, he nearly lost his grip on the second and third pole as they now drop when a competitor transitions to them. He managed to clear the obstacle but it had sapped his energy, contributing to his fail on the first transition on the new Ultra Crazy Cliffhanger, where he got enough momentum on the jump and touched the second ledge however did not get a grip on to it. He came in second in that tournament only being beaten by fellow teammate Drew Drechsel.
American Ninja Warrior
Brent first competed in American Ninja Warrior 2, after training with top competitors like Brian Orosco and Levi Meeuwenberg. Despite hesitating on the Cross Bridge and missing a try on the Warped Wall, he cleared the qualifying course in 27th place. In the semi-finals, he moved much faster than in qualifying despite a miss on the Soritatsu Kabe, but his speed affected his performance on the Salmon Ladder, where he failed the first jump. It was shown that he attempted to hop the bar up the rungs while still swinging from the trampoline jump, causing the right side to become dislodged. Luckily, his time was fast enough to place 14th overall and get into Boot Camp, becoming one of only 6 rookies to make it to Japan.
He then competed on American Ninja Warrior 3, having a stellar season like last year. In qualifying, he moved at a much faster pace than last year, clearing the course flawlessly by placing 13th overall and moving on to the semi-finals. In the semi-finals, he was one of 13 to fail the brutal Unstable Bridge, placing 6th overall and moving on to Boot Camp for a second year. From there, it was smooth sailing to Japan.
American Ninja Warrior 4
In American Ninja Warrior 4, Steffensen competed in the Southwest region and managed to place 1st in the qualifiers. In the finals he had to take three tries to complete the Warped Wall, however he made it to made it to Las Vegas, placing 5th. He cleared the First Stage with 29 seconds left. In the Second Stage he was the only one to make it to the Wall Lifting, however there is some ambiguity on whether or not he actually completed the stage as multiple sources claim that the clock had glitched and the timer really hit zero before he hit the buzzer, while others claim he did make it and the clock did not register that he had hit the button. Many also claim he was simply granted an automatic clear due to the fact that the course had multiple malfunctions which resulted in many reruns given that night. The exact details are unknown, nevertheless he made it to the Third Stage, and became the first American to complete the Ultimate Cliffhanger. However, his victory was short lived, as he ended up falling on the Hang Climb when he was unable to find a suitable route and he fell due to fatigue. He celebrated by jumping in the water when he got past everyone else.
American Ninja Warrior 5
In American Ninja Warrior 5's Venice Qualifying, he got hung up on the Floating Chains, but completed the obstacle. Even though he was completely drained, he completed the last third of Qualifying and advanced. In the Venice finals, however, he was quickly defeated by the Salmon Ladder when he took too long to start climbing. He was a wildcard for Vegas, and made up for his Venice fail by gaining the 5th fastest time. Unfortunately, history repeated itself as he failed the Double Salmon Ladder in Stage 2, when he completed the transition, but, unlike the Venice finals, he went too fast to continue climbing, resulting in the right side not landing properly. Everyone, including Brent was shocked.
American Ninja Warrior 6
In American Ninja Warrior 6, Brent competed in the Dallas Qualifying. There he competed alongside his girlfriend Kacy Catanzaro. He was quick to defeat the first 4 obstacles, however, he had trouble on the new obstacle the Ring Toss. He accidentally got both rings stuck on a peg and he tried to clear the obstacle, but eventually fell in the water. Then to the shock of everyone, he didn't make it into the Top 30, just getting 31st place and getting beat by Dillon Gates, a person that he trains with and is also friends. He was later seen in the Dallas Finals cheering on Kacy during her run.
American Ninja Warrior 7
In American Ninja Warrior 7, Brent competed in the Houston Qualifiers with Kacy again. This time he finished the course and placed the 2nd fastest time moving into the city finals. He got his revenge on the Salmon Ladder, which took him out in Season 5, but was one of the many to fall on the Walking Bar. Despite that however, he placed 8th and was able to advance to Vegas without being a wildcard this time. In Vegas, Brent was the final runner to go and despite almost slipping on Sonic Curve, he recovered and finished Stage 1 with a record breaking 51 seconds (which would be broken two tournaments later). However he had trouble with Stage 2 being slow and spending a lot of energy on the Rope Jungle, using 40 seconds to complete it and rest before the Double Salmon Ladder causing him failing the transition to the first Unstable Bridge and thus failing Stage 2.
American Ninja Warrior 8
In American Ninja Warrior 8, Brent competed in the Oklahoma Region once again with Kacy (whom he was revealed to no longer be dating). He was doing good in the Qualifiers completing the first 4 obstacles, but shocked everyone when he failed the Bar Hop. This is the second time in which he failed on a Qualifying course. But he still made it into the top 30, getting 22nd place. Steffensen later completed the Bar Hop in the finals, as he remembered to use the reverse grip to secure himself on the bar. While he was able to complete the Bar Hop, his grip strength ran out on Bungee Road. However, Steffensen once again advanced to Vegas, placing 10th. In Vegas, he once again failed to hit a button as he shockingly was one of many competitors who failed the new Giant Log Grip. This is the first time that he had failed on Stage 1 in either Vegas or SASUKE.
American Ninja Warrior 9
In American Ninja Warrior 9, Steffensen competed in the San Antonio Qualifying which is also his hometown, though he struggled with the Pipe Fitter, he completed the course as the 11th fastest finisher with the home crowd behind him. In the City Finals, he had less difficulty with the Pipe Fitter and cleared the new obstacle, the Spinball Wizard with ease and made it all the way to the Elevator Climb until his grip gave out but was still able to advance to the Vegas Finals having finished in 4th place. In the Vegas Finals, Steffensen's Stage 1 run was digested, but cleared with ease and with 33.66 seconds left. On Stage Two, Steffensen struggled on the Giant Ring Swing and ended up falling from the Wave Runner due to fatigue.
American Ninja Warrior 10
In American Ninja Warrior 10, Steffensen competed in the Dallas Qualifying again. Despite passing through the first three obstacles with ease, Steffensen failed on the new Tuning Forks when he lost his balance on the second fork. However, since Steffensen reach that obstacle in a fast enough time, he was still able to qualify for the city finals in 28th place. In the city finals, his run was digested but it was shown that he almost fell on the Broken Bridge, but managed to recover and made it all to the Nail Clipper where he fell there but placed 13th overall and moved on to Vegas. In Stage One, Steffensen cleared the first seven obstacles with ease, but struggled on Twist & Fly, and ran out of time on the Rope Ladder. He was 2 seconds away from clearing stage 1.
American Ninja Warrior 11
On American Ninja Warrior 11, Steffensen returned to compete in Oklahoma City. Though his run was digested, he breezed through the qualifier with ease, hitting the buzzer and placing 6th. In the city finals, his run was digested again and he reached the Crazy Clocks, before falling. Unfortunately, his time was not fast enough to put him in the Top 12, thus failing to qualify for Vegas for the first time since Season 6. He just narrowly missed the cut and placed 14th at the end of the round. For the second time ever, he missed the National Finals by one spot.
Team Ninja Competitions
Team Ninja Warrior
Brent Steffensen founded Team Alpha during season 1 of Team Ninja Warrior. The original lineup consisted of Kacy Catanzaro and Evan Dollard. Brent didn't do as good as he thought he would, as in round 1, Brent lost to Ryan Stratis. Then in round two, with his team up at 2-0, he had a slight slip on the warped wall and lost to Kevin Bull. During sudden death, he had a clumsy slip on the Dancing Stones as he tried to rush to catchup with Kevin Bull.
Team Ninja Warrior 2
Team Alpha regrouped for Team Ninja Warrior 2, seeking redemption for their disappointing performance from the previous year. His now ex-girlfriend Kacy rejoined his team, while Evan was replaced with Dillon Gates, the same person that knocked him out of the top 30 in the Dallas qualifiers on American Ninja Warrior 6. Despite great runs from Dillon and Kacy, history repeated itself, as Brent once again let his team down by losing three races. In his first run, he lost to Karsten Williams despite him being fast on the Fly Wheels. In his second race, he had a chance of sending his team to the relay showdown but lost to Joe Moravsky. Finally, in sudden death, he elected himself to run again and then lost after falling on the Ring Of Fire.
American Ninja Warrior: Ninja vs. Ninja
For his third year of team ninja competition, which saw Team Ninja Warrior get revamped into American Ninja Warrior: Ninja vs. Ninja, Brent brought back Team Alpha with a new lineup. Sydney Olson replaced Kacy following her retirement from the franchise, while David Yarter replaced Dillon. Brent ended up losing his seventh race overall in team competitions when he fell on the Floating Tiles and lost against Lorin Ball, Sydney Olsen lost the second race against Meiling Huang and Even though David Yarter won the third race against Paul Kasemir, the team lost the relay race that followed and they got eliminated early once again.
Overall Brent's final individual race record within the three seasons of team competition was 0-7.
Trivia
Brent appeared in the Denver qualifiers on American Ninja Warrior 9 and ran the course under the disguise of Arthur Hickenlooper, an 81-year old retired postal worker. The official video of his run as Hickenlooper currently has had more than 10 million views on YouTube.

His altered identity as Arthur Hickenlooper is named after John Hickenlooper, the governor of Colorado (at the time of the taping, which was in 2017) and 2020 presidential candidate. The real Hickenlooper actually attended the taping of American Ninja Warrior in Denver.
Arthur Hickenlooper's wife, Ruth, was portrayed by Matt Iseman's mother, Joan Iseman.

Brent is only one of few in SASUKE to compete at least three times without ever failing the first stage.
Every-time Brent failed to make it to the next round in Vegas, he's always failed 1 spot away.

Micheal Moore included in the Dallas Qualifiers would have made him 32nd, but because he was injured he would run again in Las Vegas as a wildcard. So, overall it's confusing to say Brent was in 31st place, but because the leader-board said it that can be proof.
During American Ninja Warrior 11's Oklahoma City finals, Brent placed 14th overall, one spot away from the Top 13.

He has the second best rookie perfomance in the history of American Ninja Warrior. In American Ninja Warrior 2.
SASUKE Results
| SASUKE | # | Result | Notes |
| --- | --- | --- | --- |
| 26 | 74 | Failed Ultimate Cliffhanger (Third Stage) | Digest. Third Ledge. |
| 27 | 79 | Failed Metal Spin (Second Stage) | |
| 32 | 62 | Failed Ultra Crazy Cliffhanger (Third Stage) | First Transition |
ANW Results
ANW
#
Result
Notes
ANW4
71
Failed Hang Climbing (Third Stage)
First American to beat the Ultimate Cliffhanger.
ANW5
85
Failed Double Salmon Ladder (Second Stage)
Transition to seventh rung.
ANW7
100
Failed Unstable Bridge (Second Stage)
Transition to the first bridge.
ANW8
Failed Giant Log Grip (First Stage)
ANW9
Failed Wave Runner (Second Stage)
ANW10
Failed Twist & Fly (First Stage)
Time out. Digest.
Community content is available under
CC-BY-SA
unless otherwise noted.