Brennan Mejia is a circus performer/actor who made his debut on American Ninja Warrior 6. He is best known as the actor who plays Tyler Navarro, the Red Ranger, on Power Rangers Dino Charge.
In American Ninja Warrior 6, he competed in the Venice qualifiers, he made it all the way to the Monkey Pegs before falling off midway. He did, however, get there fast enough to qualify for the Venice finals, coming in at 29th place. In the Venice finals, he got past the Quintuple Steps but ended up falling on the Spinning Wheel.
After his run ended, Brennan was cast as Tyler Navarro, the Red Dino Charge Ranger, on the popular children's television franchise, Power Rangers. He served two years on the show during the Dino Charge and Dino Supercharge seasons. Because of the filming schedule during the first year, he had to miss returning for American Ninja Warrior 7. However, he returned for American Ninja Warrior 8 and was the first competitor of the season. He got through the Floating Steps with little hesitation, but on Tick Tock, he had a bad leap off the trapeze and grabbed the bottom of the log with his hands. On the log, Brennan made the mistake of pulling his feet back right before getting on the log on the bottom part of the log. From there, he had a long shot of pulling himself up into the right position and ended up falling off the log.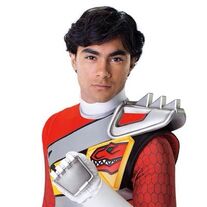 Community content is available under
CC-BY-SA
unless otherwise noted.