Breanna "Bree" Widener is a makeup artist from Augusta, Georgia. Widener works as a makeup artist for haunted houses, and as such, is nicknamed the Scary Strong Ninja.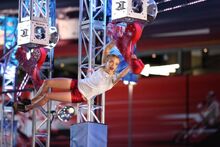 Bree first competed in Daytona Beach in American Ninja Warrior 9. In qualifying, she almost fell off the course on the Rolling Pin. However, she recovered and became the first competitor of the night that survived the Wingnuts and the Broken Bridge, very narrowly surviving the latter. However, she struggled on the Rolling Thunder, having a hard time pushing the wheel down the track, before losing her grip and falling. Despite this, she moved on to the city finals placing 3rd in the womens' top 5.
In the city finals, her run was digested but it was shown that she failed Rolling Thunder again. Her time to that point didn't land her in the women's top 2.
She returned in Miami in American Ninja Warrior 10. Her run was digested, but it was shown that after over 2 minutes of struggling on the Ring Turn, she fell and did not make the women's top 5.
She returned in Atlanta in
American Ninja Warrior 11
. Her run was cut from broadcast, but she fell on the third obstacle,
Block Run
, and didn't make the womens' top 5 for the second season in a row.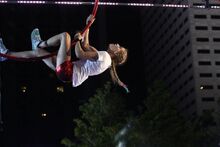 Widener competed with Tyler Gillett and Kevin Carbone as a member of the Young Bloods. Their team made it all the way to playoffs, where they were eliminated by the Lab Rats in the relay showdown.
Community content is available under
CC-BY-SA
unless otherwise noted.