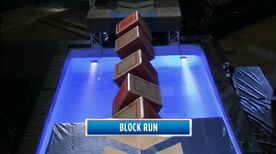 The Block Run is an obstacle, firstly introduced as the third obstacle on American Ninja Warrior 8 in Atlanta.
Competitors must run across 5 tilted cubes on a horizontal pole that would roll and slide when the competitors stepped on them.
In its debut during Atlanta qualifiers, the Block Run obstacle was proven to be a minor threat, as only a few competitors such as Steven Brickhouse failed on the obstacle. During Atlanta finals, the middle block was removed. While it didn't take out any competitors, many competitors did stumble on the obstacle. 
Other Season Appearances
American Ninja Warrior 9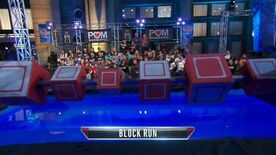 The Block Run returned on American Ninja Warrior 9, as the fourth obstacle in Los Angeles. However, the number of blocks was increased to 6 and each block varied in size. This time, the obstacle took out several notable competitors, including Brian Kretsch, Ben Melick, Travis Brewer, and Selena Laniel. In the end, it eliminated 13 competitors during Los Angeles qualifiers. However, no competitor failed on this obstacle during Los Angeles finals.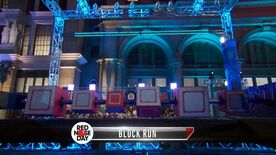 This version of the Block Run was attempted early during Celebrity Ninja Warrior: Red Nose Day. Among the 9 celebrity competitors who attempted the obstacle, only Natalie Morales and Nikki Glasser failed on it.
American Ninja Warrior 10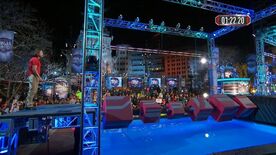 On American Ninja Warrior 10, the Block Run appeared as fourth obstacle in Indianapolis, and the obstacle remained unchanged from the previous season (apart from cosmetic alterations). Being featured in Indianapolis course, the obstacle coincidentally shared the qualifying course with the Cannonball Drop (during Indianapolis qualifiers) and Fly Wheels (during Indianapolis finals), in which those 3 obstacles were used in Los Angeles course on the previous season.
During Indianapolis qualifiers, the obstacle eliminated several top competitors once again, including Jody Avila, Brandon Mears, Josh Butler, Bill Westrick, Andrew Rowland, Caleb Watson, and Aaron Rayburn, quickly became more dangerous than during the past two American Ninja Warrior seasons, as 19 competitors failed on it.
During Indianapolis finals, although only 2 competitors failed on the obstacle, the Block Run was responsible for sparking one of the biggest shocks of the season, and arguably in American Ninja Warrior history, as it had eliminated the first American Ninja Warrior champion, Isaac Caldiero, from the competition. This ultimately became Caldiero's earliest exit during his American Ninja Warrior appearances, being his first season where he did not qualify to Las Vegas national finals. Alex Bienz was the other competitor who failed on the obstacle.
American Ninja Warrior 11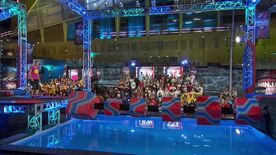 On American Ninja Warrior 11, the Block Run returned as the third obstacle in Atlanta, the same city as its first appearance on American Ninja Warrior 8. This time, foam cylinders were added between the blocks to prevent them from sliding along the axle.
During Atlanta qualifiers, the obstacle eliminated 15 competitors, including several top competitors like Michael Johnson, Bree Widener, and Charity LeBlanc. Several competitors also tripped up but were able to save themselves, such as Travis Rosen (who previously had a severe injury after hitting his ankle to the landing platform from the Double Dipper in Stage One on the previous season), Drew Drechsel, and Jessica Clayton.
During Atlanta finals, the obstacle was proven to be difficult once again, as it took out competitors such as Neil Craver, Eddy Stewart, and Emily Durham. In total, 6 competitors fell on this obstacle. Many competitors stumbled on this obstacle once again, such as Ryan Stratis (who received a cut on his hand at the end of the obstacle) and Travis Rosen (who had the same problem during Atlanta qualifiers).
External Links
Community content is available under
CC-BY-SA
unless otherwise noted.