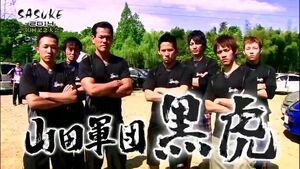 The Black Tigers (also known as Yamada Gundan) are a group of rookies led by Yamada Katsumi.
Yamada formed the group before SASUKE 29 and trained them on his home course. In SASUKE 29 four of them competed, however all four failed the First Stage with three of the four being digested. The group returned in SASUKE 30 with Yamada competing alongside them. However, only three were invited this time. The results were better however with Yamamoto Hiroshige clearing the First Stage. The other two Matsubara Shinji and Watanabe Yousuke both failed the First Stage. Yamamoto, however went out on the Swap Salmon Ladder when he landed with the bar crooked on the last level and was disqualified. In SASUKE 31 the results were better than the last tournament with Yamamoto Hiroshige clearing the First Stage again, Matsubara Shinji failing in the Lumberjack Climb due to the time and Watanabe Yousuke doing his best competition failing in the Soritatsu Kabe. Yamamoto Hiroshige failed in the Second Stage in the Backstream.
Results
| # in Tournament | Name | Result |
| --- | --- | --- |
| 56 | Maeda Mizuki | Failed Dragon Glider (First Stage) |
| 57 | Isa Yoshinori | Failed Rolling Hill (First Stage) |
Community content is available under
CC-BY-SA
unless otherwise noted.