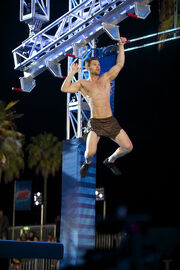 Ben "Tarzan" Melick
is a popular American Ninja Warrior competitor who has competed on four seasons of American Ninja Warrior.
Melick first appeared in American Ninja Warrior 6, competing in Venice. He completed the qualifying course, placing 13th. In the finals, he was one of many to fail Cannonball Alley, but he still advanced to Vegas by placing 15th. In his Vegas debut, Melick made it past the first three obstacles, but failed to stick the jump on the Jumping Spider.
Melick returned in American Ninja Warrior 7 and competed in Venice once again. In Qualifying, he failed the Hourglass Drop but still placed 22nd and made it to the finals.   In the finals, Melick was the first to complete the Hourglass Drop, and completed the Salmon Ladder the opposite way, becoming the first competitor to do so.  He made it all the way to the Rumbling Dice before falling in the water on the second die.  He still advanced to Vegas in 8th place.   In Vegas, Melick got revenge on the Jumping Spider but failed the next obstacle, Sonic Curve. However, in a major surprise to the crowd, he proposed to his girlfriend, Sarah Blade, whom accepted.
In Amarican Ninja Warrior 8, Melick competed in Los Angeles. In the qualifying, he completed the course placing 16th. He barely made it to Las Vegas in 15th place, he got this spot by being one of the large amounts of victims of The Wedge. In the Las Vegas Finals, he was all cut from broadcast but it was rumored he failed the Propeller Bar. This was later confirmed on ANWNation.Com.
In American Ninja Warrior 9, he once again competed in Los Angeles. In the qualifying, he failed Block Run, and didn't make the top 30 for the first time in his career.
He has not competed since.
| ANW | # | Result | Notes |
| --- | --- | --- | --- |
| 6 | 48 | Failed Jumping Spider (First Stage) | |
| 7 | 28 | Failed Sonic Curve (First Stage) | |
| 8 | | Failed Propeller Bar (First Stage) | All Cut |
Community content is available under
CC-BY-SA
unless otherwise noted.