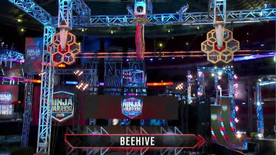 The Beehive is an obstacle, firstly introduced as the third obstacle during the third episode of qualifiers on American Ninja Warrior 12.
The concept of this obstacle was similar to the Wingnuts, where competitors must swing across three hanging honeycomb-shaped ledges. The second honeycomb was placed perpendicular to the other two honeycombs. Once the competitors grabbed on to the second honeycomb, they must rotate the honeycomb in a 270-degree direction counterclockwise until it was locked into place, making it parallel to the other honeycombs.
Due to several casualties from the previous obstacle (the Lunatic Ledges), only 22 competitors attempted this obstacle during the third episode of the qualifiers, and it only eliminated three competitors: Rachael Goldstein, David Womelsdorf, and Kyle Wheeler.
It later returned one episode later in the fourth round of qualifying. This time, more competitors attempted the obstacle, with a total of 30 being able to do so. A total of 5 competitors failed the obstacle that night, including Michael Bougher and Will Schlageter.
Other Appearances
Australian Ninja Warrior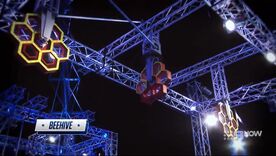 On Australian Ninja Warrior 5, the Beehive appeared as the fifth obstacle in Heat 2 and Heat 4. The obstacle was paired with Weight for It as part of the Crossroads' Path B.
Competitors' Success Rate
All results based on the NBC broadcast and external information found
External Links