Not to be confused with the Enchū Nori, which was called as the Barrel Roll during the broadcast of Women of Ninja Warrior.

Not to be confused with the Barrel Roll on American Ninja Warrior 1 during qualifying and semifinal, coincidentally as the third obstacle.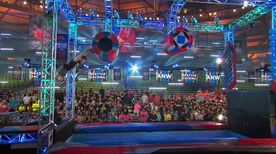 The Barrel Roll is an obstacle, firstly introduced as the third obstacle on American Ninja Warrior 11 in Seattle-Tacoma.
It consisted of two large cylinders, each with handles to hold on. Competitors must jump from the trampoline and grab the handles on the first cylinder. Then, they must build enough swing and momentum to reach a handle at the left side of the second cylinder. From there, they must climb up the next handles to reach a handle at the top-right side of the second cylinder. Finally, they must make a momentum to roll the right side of the cylinder in a counter-clockwise direction and time their release to make the dismount to the landing platform.
A total of 17 competitors failed on this obstacle during Seattle-Tacoma qualifiers, including Rose Wetzel, Larissa Cottle, Tim Schnee, Clover Street, Andrew Chenn, McKenna Haase, and Jackie Ehlers. During Seattle-Tacoma finals, no competitor fell on the obstacle.
Other Season Appearances
American Ninja Warrior 13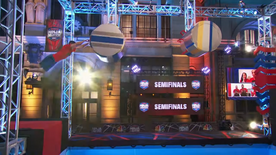 The Barrel Roll appeared back as the third obstacle in the fourth episode of the semifinals on American Ninja Warrior 13. In the episode, only two competitors failed the obstacle which are Lindsay Eskildsen, and Jamie Ross.
Other Appearances
Australian Ninja Warrior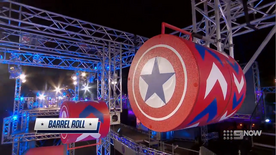 On Australian Ninja Warrior 4, the Barrel Roll appeared as the seventh obstacle during the semifinals, and then as the eighth obstacle in Stage One on Australian Ninja Warrior 5.
Competitors' Success Rate
All results based on the NBC broadcast and external information found
Trivia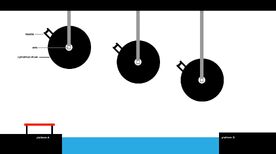 The Barrel Roll was one of the obstacles that won the third edition of American Ninja Warrior: Obstacle Design Challenge, designed by 11-year-old Tyler Rizzo.
The obstacle's original design only had three separate cylinders with handles which competitors had to swing and grab the handle of each subsequent cylinders. The name of the obstacle was originally called as the Cylindrical Crisis.
External Links