The Balance Bridge (バランスブリッジ) was a First Stage obstacle from SASUKE 11. It was very similar to the Yureru Hashi, only this obstacle's axis was not centered. Also, there was a bar running across the entire length of the bridge and a bar across as well, forcing contestants to hop over it. It only took out Suzuki Yasukata and Akiyama Kimihiro, and was replaced by the Ipponbashi in SASUKE 12.
Confusion existed over the Balance Bridge's name. It stemed from this obstacle being called as the Quarter Bridge (クオーターブリッジ) during SASUKE Trials. SASUKE's official website also listed the name Quarter Bridge, but was called as the Balance Bridge on the actual broadcast.
During the broadcast of Ninja Warrior, the Yureru Hashi (which was used in the first seven SASUKE tournaments) was called as the Balance Bridge, which also the same name for the Fuandou during the broadcast of Women of Ninja Warrior, as well as the Balance Bridge from American Ninja Warrior 5 in Miami.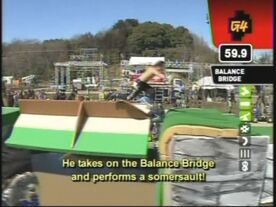 American Ninja Warrior Appearances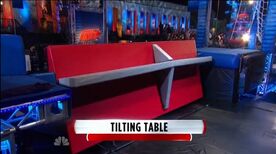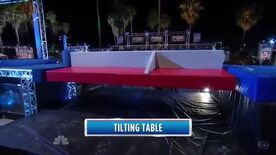 The Balance Bridge appeared as the third obstacle on American Ninja Warrior 6 in Dallas and American Ninja Warrior 7 in Venice Beach, and was called as the Tilting Table.
However, the obstacle was proven to be much brutal than in SASUKE 11, as several competitors failed to maintain the step and balance. This obstacle was also notable for injuring Nika Muckelroy's shoulder during Dallas qualifiers and Brian Kretsch's knee during Venice Beach qualifiers severely. In Brian Kretsch's case, he was still able to continue the run, before going out on the Hourglass Drop.
The Tilting Table also slightly injured Sam Sann's ankle during Dallas qualifiers as well (similar to what happened during American Ninja Warrior 5's Denver qualifiers, when he injured his ankle while dismounting from the Grip Hang). However, unlike Nika Muckelroy, he was able to continue the run and eventually, finished the course and made all the way to Las Vegas national finals.
Other Appearances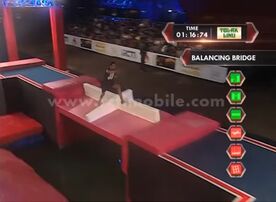 On SASUKE Ninja Warrior Indonesia, the Balance Bridge (called as the Balancing Bridge) appeared as the fourth obstacle during Semifinal Stage 1. However, unlike in SASUKE 11 and American Ninja Warrior, the obstacle was proven to be extremely easy, as no competitor failed on this obstacle.
Competitors' Success Rate
All results based on the TBS broadcast and external information found
| SASUKE | Clears | Attempts | Percentage |
| --- | --- | --- | --- |
| 11 | 22 | 24 | 91.67% |
| Total | 22 | 24 | 91.67% |
Community content is available under
CC-BY-SA
unless otherwise noted.