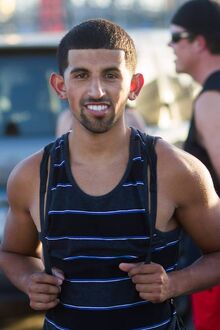 Arnold Hernandez is a gym owner from Los Angeles, California.
After tragically losing his mother in October 2013, Hernandez opened his own community backyard Ninja gym, which many fellow ninjas like Brent Steffensen, Kacy Catanzaro, Travis Brewer and Travis Weinand train on.
Arnold first competed in American Ninja Warrior 7 in Venice Beach. He passed through the first four obstacles in qualifying, but was disqualified on the Hourglass Drop for failing to grab the second board. Hernandez barely managed to stay in the top 30, placing 30th overall.
Sadly, the same result occurred in the city finals. He was disqualified for the same reason in qualifying, and his time did not make the top 15. He placed 19th overall.
Hernandez returned to compete in his hometown, Los Angeles, in American Ninja Warrior 8. His qualifying run was cut, but it was revealed in his submission video for next season that he received a shocking disqualification on the second obstacle, Tick Tock, when he made the transfer to the cargo net and tapped the truss.
Hernandez returned in American Ninja Warrior 9 in Los Angeles, where he once again failed on the fifth obstacle, this time being the Battering Ram. This became the first instance where Arnold legitimately fell on an obstacle rather than getting disqualified via some special criteria.
However, his time to the obstacle did not put him in the top 30.
It was revealed that in late 2017, Hernandez was promoted by the Wilczewskis to own the Movement Lab in California. His backyard course later closed after he was promoted.
After not getting the call for American Ninja Warrior 10, he got to compete in American Ninja Warrior 11 in Los Angeles. For the first time, he made it past the fifth obstacle and went on to finish the course. He placed 8th at the end of the night, and went straight for the normal 14.5-foot Warped Wall.
His run was cut in the city finals, but sadly, the fifth obstacle got to him again. He failed the Spin Hopper, abruptly slipping off the second to last spin-platform, and missed his chance at Vegas. He placed 26th overall.
Community content is available under
CC-BY-SA
unless otherwise noted.