The Arm Rings (アームリング) was an obstacle, firstly introduced as the first obstacle in SASUKE 16's Third Stage, replacing the Rumbling Dice from the past seven SASUKE tournaments.
Competitor must hang from two rings on different-shaped sliding horizontal track and must negotiate several separate rises and dips on each track. To make it through the obstacle quickly, competitors would do a strong push in the beginning to make it in the middle and would use the rings to bounce on the poles to get momentum. 
In SASUKE 18, after completing the obstacle, competitors must grab a horizontal bar as an intermediary to the next obstacle, the Arm Bike. 
Although the obstacle was placed for nine tournaments, it served as more of an energy drainer, as only two competitors (Nakata Daisuke and Yamamoto Shingo) failed due to injuries that made the obstacle difficult to complete. After Urushihara Yuuji's kanzenseiha in SASUKE 24, it was replaced with the Roulette Cylinder.
It became the last obstacle at Muscle Park Odaiba's SASUKE section, replacing the Pipe Slider when it was redesigned in early 2009 before its closure the following year. 
American Ninja Warrior Appearances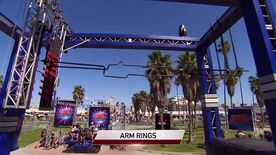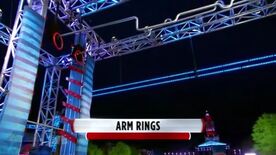 The Arm Rings appeared on American Ninja Warrior 4, as the eighth obstacle during Southwest and Northwest region finals, and then returned on American Ninja Warrior 6 during Denver finals, once again as the eighth obstacle.
However, the obstacle was proven to be a little harder, as some competitors ran out of energy as they were doing the obstacle. Also, the track was at the same length, but the rises and dips on the track were slightly different than in SASUKE.
Several competitors who failed on this obstacle were Michael Zernow (during American Ninja Warrior 4's Southwest region finals) and Lance Pekus (during American Ninja Warrior 6's Denver finals).
Other Appearances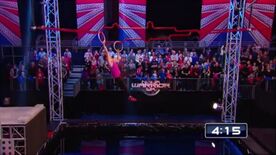 On Ninja Warrior UK and Ninja Warrior UK 2, the Arm Rings appeared as the eighth obstacle during the semi-finals, which was similar to the one used in SASUKE (since the obstacle was not preceded by any obstacle with no rest).
Competitor's Success Rate
All results based on the TBS/NBC broadcast and external information found
SASUKE
| SASUKE | Clears | Attempts | Percentage |
| --- | --- | --- | --- |
| 16 | 8 | 8 | 100% |
| 17 | 7 | 8 | 87.5% |
| 18 | 3 | 3 | 100% |
| 19 | 0 | 0 | N/A |
| 20 | 1 | 1 | 100% |
| 21 | 3 | 3 | 100% |
| 22 | 4 | 4 | 100% |
| 23 | 6 | 7 | 85.71% |
| 24 | 7 | 7 | 100% |
| Total | 39 | 41 | 95.12% |
American Ninja Warrior
| ANW | Clears | Attempts | Percentage |
| --- | --- | --- | --- |
| ANW4 (Southwest region) | 13 | 19 | 68.42% |
| ANW4 (Northwest region) | 16 | 17 | 94.12% |
| ANW6 | 14 | 16 | 87.5% |
| Total | 43 | 52 | 82.69% |