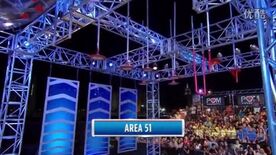 Area 51 is an obstacle, firstly introduced on American Ninja Warrior 7, as the seventh and penultimate obstacle in Stage Three, replacing the Spider Flip from the past three American Ninja Warrior seasons.
Competitors must use their arms and legs to navigate through six suspended rotating disks (shaped like a flying saucer/UFO), until they reached the resting bar of the Flying Bar. Three competitors (Ian Dory, Isaac Caldiero, and Geoff Britten) could reach and complete the obstacle.
However, during USA vs. The World 2, the obstacle took out Matachi Ryo from Team Japan.
Other Appearances
Ninja Warrior Poland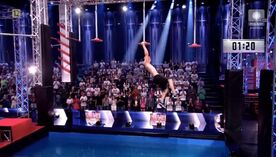 At Ninja Warrior Poland, the saucers appeared as the fourth obstacle in the semi-finals, with the difference that, unlike the American Ninja Warrior 7 version, the Alley of Saucers preceded the chimney and followed the Salmon Ladder and consisted of only 3 saucers that did not rotate and a bar before this one. The obstacle turned out to be extremely difficult as it required a strong grip and buried the dreams of many semi-finalists, of which only 13 were able to complete it. Some of the people who dropped out on this obstacle advanced to the grand finale.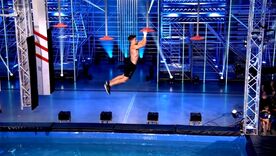 Later on Ninja Warrior Poland 5, the UFO Alley appeared as the fourth obstacle of the Stage Two. This time the obstacle consisted of four saucers at different heights: the second and fourth saucers were suspended lower than the others, and the last saucer served as a pendulum for swinging. This season, both two competitors who attempted this obstacle finished it.
Trivia
This obstacle is named after an Air Force facility in the United States at the state of Nevada (the National Finals is filmed at the same state), which is a central component to flying saucer/UFO folklore.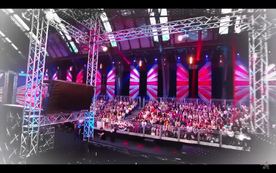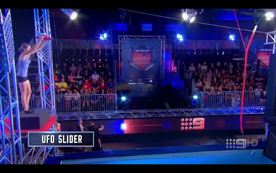 On several Ninja Warrior's international formats (e.g. Ninja Warrior UK, Ninja Warrior Sweden, and Australian Ninja Warrior), the disk of this obstacle was made as an individual obstacle, called as the UFO.
Competitors' Success Rate
All results based on the NBC broadcast and external information found.
External Links