Akiyama Kazuhiko (秋山 和彦) is a SASUKE All-Star who became the first man to achieve Kanzenseiha, doing so in SASUKE 4. He has not been able to repeat his success however, due in part to an eye condition known as Degenerative Retinosis that has plagued him for years. His eye condition also forced him to retire from crab trapping and he is now a Sports Massage Therapist. He has also ever been a soldier in Japan's Self Defense Force and a Greco-Roman Wrestler, but had to retire from both due to mentioned eye condition. His victory in SASUKE 4 was his only trip to the Final Stage. Of the 20 tournaments he has entered, he has cleared the First Stage six times, the Second Stage three times, the Third and Final Stages once.
Early Tournaments
Akiyama was given #100 in SASUKE 2, due to setting a record in Kinniku Banzuke's Quick Muscle event, having done 307 pushups in three minutes and 1.500 pushups in 45 minutes. He cleared the First Stage with relative ease, finishing with just under 19 seconds left. However, he was unable to clear the Second Stage because he took too much time on the Spider Walk, leaving him only 10 seconds by the time he reached the Goren Hammer. As a result, he timed out on the Wall Lifting.
In SASUKE 3, Akiyama wore #99 and had yet another quick pace, but almost failed on the Sosoritatsu Kabe. Despite this, he took his time on the final two obstacles and even threw a peace sign to the camera before pressing the button. On the Second Stage, however, a mixture of being too careful on the Spider Walk and hesitating on the Goren Hammer caused déjà vu, as in the end, the former Crab Fisherman ran out of time at almost the exact same spot.
Kanzenseiha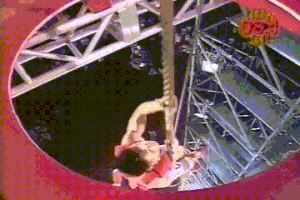 Not being seen as a serious threat to achieve Kanzenseiha after his failures, he was given #86 in the fourth tournament. Similar to the previous tournament, he was able to clear everything with ease and was rewarded with the second fastest (known) time in the First Stage, with 20.92 seconds left. In the Second Stage, third time lucky seemed to be the case for Akiyama. He sped through the Spider Walk and the Goren Hammer, leaving him enough time to clear the stage, but not before celebrating with a backflip at the finish gate (that would caused controversy in Records as the timer on set is stopped before he attempt the backflip but the time on screen was not). Despite it being his first attempt at it, the former Crab Fisherman made the redesigned Third Stage look like a child's playground. However, when he made his jump from the Pipe Slider, Akiyama fell just short of the platform, but sheer muscle and strength pulled him up, making him the only person to reach the Final Stage, where he made his ascent on the 15 metre Tsuna Nobori. He was able to clear it in a blistering speed of just 24 seconds out of the allotted 30 seconds, becoming the first person in SASUKE history to achieve Kanzenseiha.
After Kanzenseiha
Akiyama took SASUKE 5 off to focus on taking course to be a Massage Therapist and opening up a new massage centre and came right back in SASUKE 6, where he wore #100 for the first time since his debut. He returned to prove everyone that his win wasn't a fluke and it seems to be true until he meet Jump Hang, which he never attempt before. There, he completely miss the trampoline jump and came nowhere near close to clear. A very sad scene for the Grand Champion and his long-time rival from Kinniku Banzuke era, Yamada Katsumi, came to cheer him up. He was crying in despair, still trying to sunk it in that it was the first time in his career, he had failed the First Stage. It wouldn't be the last.
As he was determined to beat this obstacle, he went to buy a trampoline and training on it at his home in Hokkaido before SASUKE 8, however, he went out on the same obstacle in the next two tournaments, coming closer and closer each time. In fact, after all the First Stage runs (on SASUKE 8) finished, he was allowed by the producers to attempt the Jump Hang again. Took him two tries but eventually he was able to clear it and was very happy afterwards (these scenes sadly only available on ZONE coverage).
Frustrated by his Jump Hang failures, Akiyama was even considering retirement, so in SASUKE 9, that's what was expected. Akiyama probably think this would be the last time and was determined to clear First Stage again, no matter the cost. This sign also seen by the producers, who gave him the coveted #100 for the third and last time. However, the Gods of Midoriyama denied him even an attempt at the Jump Hang, as he shocked everyone by being taken out on the very first obstacle, the Godantobi, after his foot touched the water while clearing the obstacle.
Akiyama thought that this isn't the farewell he wanted, so he continued training and even expanded his training course for the 10th Anniversary tournament. He replaced the single rope on his Jump Hang for an actual net and even made a makeshift Soritatsu Kabe, both of which cost a total of ¥700,000. It was a very emotional tournament for Akiyama as he probably considered retiring at this point if he fail Jump Hang again. Praying at the bottom of the tower that has changed since he beat it years ago, his run arrived at last. Wearing #981 (equal to #81), he passed the first three obstacles (although scare himself on Daasu Bridge). He meet again for the fourth time with Jump Hang. He start to collect himself before the Jump Hang, started the run and... he did it! The nemesis was finally beaten! Sadly, though, his run was cut short by Soritatsu Kabe, as he was probably over-joyed from his small victory against Jump Hang. He stare at Soritatsu Kabe during the aftermath, but at least now he know, he wasn't done yet.
SASUKE 11 features one of Akiyama's most memorable moments. Four months before the tournament, Akiyama had hurt his knee in training and had to have surgery on it. Even months after, he wasn't even able to clear his Soritatsu Kabe. Despite this, he still decide to compete, now being joined with his brother. He had a close call on the Balance Bridge but confirming his Jump Hang's clear the last time wasn't fluke before making it back to his new foe, the Soritatsu Kabe. He took two attempts at it and, although he came close, his injury kept holding him back. With time ticking away, he pushed through the pain and was able to clear the Soritatsu Kabe that plagued him before. With less than 17 seconds left, he quickly traversed and scaled the Tarzan Rope and Rope Climb, clearing the First Stage with just a mere 0.03 seconds left, all for the first time in 3.5 years. He is very emotional and his fellow All-Stars rejoice on the sideline. He can even only say one sentence in his interview, "I am so happy", before making his way to meet his fellow All-Stars. They welcome him and celebrate his success, which turns out wasn't fluke as he then repeated this success in a redesigned Second Stage, returning to Third Stage, before failing the Body Prop. In the next tournament, he continued his good form by making to the Third Stage once more. There, he made it to the Pipe Slider, but fell short of the platform and missed the chance of trying to get a second Kanzenseiha.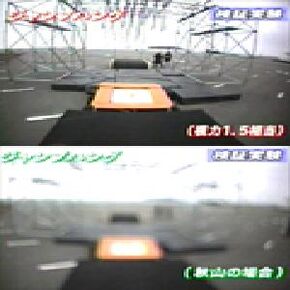 Already proving himself that his win wasn't a fluke, he torn down his home-made obstacles shortly after he competing. Despite that, he still perform well in SASUKE 13 Trials, in which he was able to qualify for the actual tournament courtersy of him finishing the Trials with 11.01 seconds left, placing him at 10th place. Came SASUKE 13 and he was expected to do well once again but he surprisingly fell on the new Nejireta Kabe (probably the darkness penalised Akiyama). A series of test later ran by TBS and it was evident that his eye condition is getting worse (see picture on the right for the comparison of Akiyama's eyes to normal eyes), as Akiyama can't even read newspaper or press his telephone's button until his eyes were milimetres away from the items. Hence, starting SASUKE 14, he is now given lower numbers to made him able to competing in the daytime. He passed Nejireta Kabe in this better condition, but failed the Soritatsu Kabe and then he met the same fate in the next tournament. However, this streak is broken in SASUKE 16 as he was able to clear the First Stage, only to be one of the many victims of the deadly Metal Spin. No one know this would be his last time clear First Stage. SASUKE 17 proved to be a disappointment, as he fell on the new Circle Slider, however, he was there to witness his fellow All-Stars Nagano Makoto achieve Kanzenseiha later that night and joining the celebration afterwards.
Shin-SASUKE and Afterwards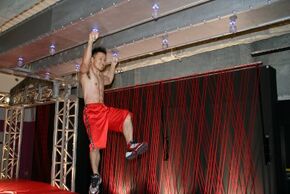 After Nagano's Kanzenseiha, he vowed to retire, skipping the next two tournaments, SASUKE 18 and SASUKE 19, before making a return in the 20th Anniversary tournament, in which he was the first competitor to run that day as he wore #1901 (equal to #1, probably as to remark that both Grand Champions started and ended the day, as Nagano himself was given #2000). Here, he struggled on the Pole Maze and he lost his grip on the rope of the Half-Pipe Attack when time was about to expire. He returned in SASUKE 22 but failed on the same obstacle, this time slipping on the half-pipe immediately after starting the run. He again returned in SASUKE 24, in which he took his revenge on the Half-Pipe Attack, only to be defeated one more time by the Soritatsu Kabe. In SASUKE 25 he wore #98 as the last three bibs were reserved for the three current grand champions. His progress was slow throughout the First Stage as he was visibly hesitant and possibly slightly afraid to attempt certain obstacles such as Jump Hang, Bridge Jump and Soritatsu Kabe, with the latter making him time out. He made his final appearance in SASUKE 28, failing the Spin Bridge, possibly due to not being able to see the spheres of the obstacle well due to him competing at night.
He was invited to compete in the 30th Anniversary tournament, but he declined the offer (which would have been the first tournament since SASUKE 17 with all six all-stars present). He was present in SASUKE 32 on the occasion of Nagano Makoto's retirement ceremony. He also took part on a side event in which competitors faced four First Stage obstacles for real, and another four on a Super Mario Bros. game. He attempted it with seven other competitors (even with a gig joke as he attempt it while wearing bib #99), including Yamada Katsumi. However, his run was short-lived as he failed at the transition from Quad Steps to Rolling Hill.
Trivia
He competed on Kinniku Banzuke's Quick Muscle event, setting the record by doing 307 push-ups in three minutes. This is why he was granted #100 in his first SASUKE tournament. He is also the only competitor to wear #100 in his debut tournament, not counting SASUKE 1 and 18 as the former being the first ever tournament and the latter due to numbers being determined by a 1.200-metre Marathon.
He is the only All-Star to never failed a Spider Walking obstacle (despite the struggles on it) and only one to never attempt Flying Chute or Rope Ladder.
He and Shiratori Bunpei are the only All-Stars to have never failed any variant of Cliffhanger, as well as being the only All-Stars not to have a protege to trained by.
Akiyama is the only All-Star with a "prop" entrance, always appearing at the starting line with a string of crabs.
He is the first competitor to wear the last five numbers (#96 to #100). Yamada Katsumi later follow this when he was given #97 in SASUKE 38.
He is the only All-Star to never fail Jumping Spider.
He is the only All-Star to fail Nejireta Kabe.
He and Yamada Katsumi are the only All-Stars ever attempt the original Cliffhanger. Plus, he is only one of who cleared this version.
He and Yamada Katsumi are also the only All-Stars to never attempt Arm Rings or Curtain Cling.
He is the only person to achieve Kanzenseiha with a number not in the last ten.
He is the only person to achieve Kanzenseiha to never have a run cut from the Japanese broadcast (cut run(s) of each Grand Champion: Nagano in SASUKE 7; Urushihara in SASUKE 21; Morimoto in SASUKE 21 and SASUKE 22).
He is only Grand Champion to wear #100 in the first tournament he competed (SASUKE 2).
He is the only Grand Champion who make it to the Final Stage only once.

With that, he is the only one with 100% Clear Rate in the Final Stage.

He is the only Grand Champion to fail the first obstacle (Godantobi).
He and Yamamoto Shingo are the only All-Stars to fail Half-Pipe Attack.
He is the only Grand Champion who never attempt any version of Salmon Ladder.
He is the only Grand Champion to clear the First Stage in his debut.
It was speculated that his Kanzenseiha might never happened if the producers disqualified him on his Pipe Slider's jump. He was using the supporting metal below the landing mat to help him climb to the safety. He himself even believed he did it illegal way as he was asking the producers by making an O sign (a way in Japan to ask if it was correct, like when people make X sign to ask if they did something wrong). Fortunately, the producers deemed that as legal way and he was allowed to advance. In order for this not happening again, the Pipe Slider's landing mat was modified.
Results
SASUKE Results
VIKING Results
| VIKING | # | Result | Notes |
| --- | --- | --- | --- |
| 2 | 50 | Failed Swing Mast (First Stage) | Finish #1 on Push-Up Qualification with 137 Push-Ups. |
External Links
All-Stars