Akbar Gbaja-Biamila (born May 6, 1979) is a NFL sports analyst who currently serves as the co-host of American Ninja Warrior. Akbar is a former NFL player who played from 2003-2008, playing for the Oakland Raiders, San Diego Charges, and Miami Dolphins respectively.
Akbar has served as the co-host of American Ninja Warrior since 2013, hosting alongisde ANW host Matt Iseman. Akbar has also co-hosted Team Ninja Warrior and American Ninja Warrior: Ninja vs. Ninja alongside Iseman as well.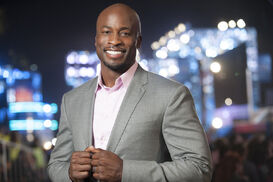 As the co-host of American Ninja Warrior, Akbar served as one of 8 celebrities to compete in Los Angeles in during the Red Nose Day special in 2018. Akbar was trained by American Ninja Warrior veteran Kevin Bull.
On the course, Akbar had completed nearly every obstacle, clearing the Floating Steps, Grab Bag, Spinning Bridge, Doorknob Drop, and Warped Wall. Each obstacle completed granted $5,000 for Red Nose Day. Although he did not attempt it, Akbar had Kevin Bull take on the Flying Shelf Grab. With Bull's completion, an additional $5,000 was also granted as well. In total, Akbar's run raised $30,000 for Red Nose Day.
Akbarisms
On the course, Akbar is well-known for his "Akbarisms", a fan-dubbed statement to describe his inspirational and humorous statements to describe an action occurring on the course.
Some Akbarisms include:
"Philadelphia, man, you talk about the city of brotherly love, this course ain't got no love!"
"I see you Jake the snake!"
No Limit Nate! I see you baby!"
"That girl is a Labreck House!"
"The king is here!"
''Brittens Got Talent!''
MLB First Pitch
In a Phillies vs. Giants baseball game, Akbar had the honor to throw the first pitch. However, he hilariously threw it awkwardly, where the baseball landed right on the dirt. His pitch is currently known by the MLB as one of the most awkward ceremonial first pitches.
His awkward throw was mentioned several times during the Philadelphia qualifiers in ANW 10. It was especially noted after Allyssa Beird finished the qualifying course. After he threw an apple to her, Kristine Leahy noted that he threw the apple better than the first pitch at the Phillies vs. Giants game.
Additionally, competitor James Bartholomew threw a first pitch at the start of his run as tribute to his pitch.
Akbar Gbaja-Biamila's Moments
Starting from the Atlanta Qualifiers of American Ninja Warrior 11, at the end of the episode where the broadcast lists the final standings for the top 30 and womens' top 5 leaderboards, Akbar shares his top 3 favorite moments from the city round. There can be occasions where he shows a run that was otherwise completely cut, or he showcases a notable scenario that occurred behind the scenes.
Atlanta Qualifying
#3: Ronald Washington attempting the Ferris Wheel, dropping with so much force that it caused one of the lights to break.
#2: Neil Craver warming up by using a power tool on his body.
#1: Shane Scudder's fall on the Shrinking Steps, drenching a cameraman.
Oklahoma Qualifying
#3: Oklahoma Governor Kevin Stitt attempting the course behind the scenes.
#2: Akbar facing a dance-off with Rumble the Bison.
#1: Clayton Collum's fall on the Diving Boards, rebounding off the dismount and slamming his head onto the third board.
Seattle/Tacoma Qualifying
#3: Josiah Roise's qualifying run, in which he came in dressed as a Viking.
#2: Lorin Ball break-dancing in the warm-up area.
#1: Justin Gielski's run in qualifying; he attempted to go for the Mega Wall, but his wife told him not to so he went straight for the regular Warped Wall and finished the course.
Baltimore Qualifying
#3: Zuri Hall with Alex Goodwin's snake, Bert.
#2: Daniel Zipadelli's run, in which he gave his own LEGO creations of Matt and Akbar to them.
#1: Akbar getting bit by Justin Andelin's penguin after trying to take a selfie with all of them.
Cincinnati Qualifying
#3: Phillip Hucke's run, where he decorated his beard after the Cincinnati Bengals.
#2: Mr. Redlegs having a bobble-head competition with Matt and Akbar.
#1: Internet sensation Jujimufu taking on the course behind the scenes.
Community content is available under
CC-BY-SA
unless otherwise noted.