Air Surfer is an obstacle first introduced as the fourth obstacle during the third episode of qualifiers in American Ninja Warrior 13, and then appeared back in the fourth episode of qualifiers.
The obstacle consisted of a long, horizontally laid surfboard-like board with two handles underneath. The top side of the surfboard has the obstacle's name on it. Competitors must gently kip the board forward and down across five different tracks, each with varying lengths. They would have to keep the board stable and as horizontal as possible to avoid pulling the board off the tracks.
In the third episode of qualifying, a total of eleven competitors failed on the obstacle, including Cara Mack, Megan Budway, Heather Weissinger, Grant McCartney, Nick Hanson, Michael Johnson, Rochambeau Dolcine, Hector Gomez, and Lenny Lopez. This obstacle was served as the cut-off for both the Top 5 female competitors the Top 30 competitors in general. For the Top 5 female competitors, since only five female competitors attempted the obstacle, every one of them that at least attempted the obstacle moved on to the semifinals. Meanwhile, for the Top 30 as a whole, only one competitor (Lenny Lopez) managed to make the leaderboard at the 30th and final place.
In the fourth episode of qualifying eleven competitors failed the obstacle, including Conor Galvin, Taylor Johnson and Craig Stowell.
Epic Air Surfer
A variation of Air Surfer, (called as Epic Air Surfer), appeared as the fifth obstacle in Stage Two of American Ninja Warrior 13, replacing the Grim Sweeper from its past recent appearance.
This version involved six different tracks, each with varying lengths and gaps in which competitors must transition in order to advance. The transition between the third and fourth tracks requires competitors to move the board slightly to the right, as opposed to the Air Surfer where the board must move at a straight line.
In its first appearance, five competitors failed the obstacle which are Kevin Carbone, Isaiah Thomas, Tage Herrington, Ryan Meeks, and Brian Burkhardt in his second run at Stage Two.
Trivia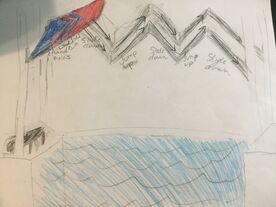 The Air Surfer was one of the obstacles that won the American Ninja Warrior: Obstacle Design Challenge, designed by Jennie Bensley.
The original idea of this obstacle when Jennie Bensley submitted to Obstacle Design Challenge was quite different from the current version of the course. Instead of several small tracks that competitors have to hop the surfboard across, there is a long zig-zag track that competitors have to push the board up until they can tip the board and slide at the downward track, push the board up to the upward track, repeat the process until they can dismount.
The Epic Air Surfer would continue the trend of a fifth obstacle that appeared on Stage Two that would be considered as a modification of a previous known obstacle from a qualifying/city finals course.
Competitors' Success Rate
All results based on the NBC broadcast and external information found
Air Surfer
| ANW | Clears | Attempts | Percentage |
| --- | --- | --- | --- |
| ANW 13 (QF EP 3) | 29 | 40 | 72.5% |
| ANW 13 (QF EP 4) | 32 | 43 | 74.42% |
| Total | 61 | 82 | 74.39% |
Epic Air Surfer
| ANW | Clears | Attempts | Percentage |
| --- | --- | --- | --- |
| ANW13 | 10 | 15 | 66.67% |
| Total | 10 | 15 | 66.67% |